Disenchantment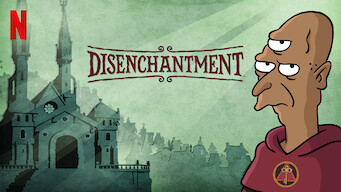 2019
12
2 Seasons
Princess duties call, but she'd rather be drinking. Free-spirited Bean exasperates the king as she wreaks havoc with her demon and elf pals.
Genres:TV Action & Adventure, TV Comedies, TV Sci-Fi & Fantasy
Cast:Abbi Jacobson, Eric André, Nat Faxon, John DiMaggio, Tress MacNeille, Matt Berry, David Herman, Maurice LaMarche, Lucy Montgomery, Billy West
Production Country:United States
Click to Rate:
New Season Added:September 20, 2019
From the Daily Dot

Disenchantment is Matt Groening's first series since Futurama, setting its sights on fantasy. No element is off-limits for parody as it chronicles the mishaps and adventures of a rebellious princess (Abbi Jacobson), an elf (Nat Faxon), and a demon (Eric Andre) in a kingdom that has a life of its own – helped in part by its fantastic voice cast. But while the fantasy elements are a delight and create some hilarious moments, some of the more human elements feel outdated and not as clever or revolutionary as the writers believe them to be.