Lucas Brothers: On Drugs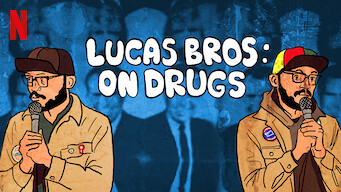 2017
15
50 min
Deadpan twin comics Keith and Kenny Lucas take the stage in Brooklyn with a set that touches on drugs, race, Deion Sanders, teachers and O.J. Simpson.
Genres:Stand-Up Comedy
Director:Jay Chapman
Cast:Keith Lucas, Kenny Lucas
Production Country:United States
Click to Rate:
Added to Netflix:April 18, 2017
From the Daily Dot

The Lucas delivery method is something like improv; they're always yes-anding each other, adding affirmations after delivering a line. That makes the flow of the set more conversational and applies some dramatic tension to a joke about bringing the movie Scream to a Black Panthers party, and being stopped by a cop with a gun who, it turns out, just wanted a selfie. "So we took the picture with him," comes the punchline. "Because he had a gun."