Everything Sucks!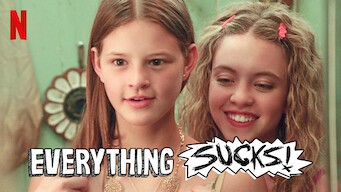 2018
15
1 Season
It's 1996 in a town called Boring, where high school misfits in the AV and drama clubs brave the ups and downs of teenage life in the VHS era.
Genres:TV Comedies, TV Dramas, Teen TV Shows
Cast:Jahi Di'Allo Winston, Peyton Kennedy, Patch Darragh, Claudine Mboligikpelani Nako, Rio Mangini, Quinn Liebling, Sydney Sweeney, Elijah Stevenson, Zachary Ray Sherman, Abi Brittle
Production Country:United States
Click to Rate:
Added to Netflix:February 16, 2018
From the Daily Dot

Netflix's latest coming-of-age tale really wants to let you know it's 1996. The 10-episode series, set in the real town of Boring, Oregon, fairs better when it's not blasting you with references. The premise isn't exactly unique, either: Three freshman friends and AV club nerds collide with the drama nerds. Luke (Jahi Di'Allo Winston) finds himself drawn to fellow AV clubber Kate (the wonderful Peyton Kennedy), who is struggling with her sexuality. They are outsiders trying to find their people. They are freaks, geeks. The last couple of episodes tonally shift from the first half, and present a clearer sketch of that feeling of invisibility and need for acceptance. Kate and Luke's storylines reach a more satisfying end by episode 10, it just takes Everything Sucks! a little too long to figure out what it wants.