6 Balloons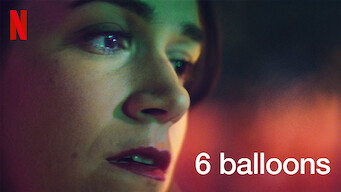 2018
15
75 min
A loyal sister struggles to stay afloat while driving her heroin-addicted brother to a detox center and looking after his 2-year-old daughter.
Genres:Dramas, Independent Movies
Director:Marja Lewis Ryan
Cast:Abbi Jacobson, Dave Franco, Jane Kaczmarek, Tim Matheson, Charlotte Carel, Madeline Carel, Maya Erskine, Dawan Owens, Jen Tullock
Production Country:United States
Click to Rate:
Added to Netflix:April 6, 2018
From the Daily Dot

In Marja-Lewis Ryan's 6 Balloons, one long night tests the limits of compassion. It tells the story of Katie (Broad City's Abbi Jacobson) a woman who's trying to plan a surprise birthday party for her boyfriend. But as the day goes on she collides with her brother Seth (Dave Franco), a heroin addict who's using again. "The loneliness inside those dark moments is almost more crippling... not being able to talk about the things; not knowing where to talk," Ryan tells the Daily Dot. "If this isn't your story, then maybe you can gain a little empathy for people who are experiencing this. And if it is your story, hopefully, you can feel a little less lonely." 6 Balloons is very much about middle-class addiction, based on a similar night Ryan's best friend (and the film's co-producer) Samantha Housman experienced: Her brother, a lawyer, was addicted to heroin.