To Each, Her Own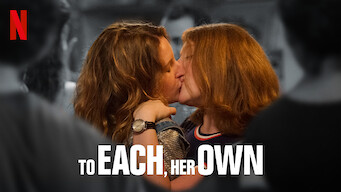 2018
15
95 min
Just as Simone works up the courage to tell her conservative Jewish family she's a lesbian, she finds herself attracted to a male Senegalese chef.
Genres:Comedies, International Movies, LGBTQ Movies
Director:Myriam Aziza
Cast:Sarah Stern, Jean-Christophe Folly, Julia Piaton, Arié Elmaleh, Clémentine Poidatz, Stéphane Debac, Richard Berry, Catherine Jacob
Production Country:France
Click to Rate:
Added to Netflix:June 24, 2018
From the Daily Dot

To Each, Her Own is a manic story in search of some breathing room. It's about a young woman, Simone, and the tumultuous few weeks that redefine her life. She's in love with a woman, but she develops feelings for a man she's planning to go into business with. On top of that she's dealing with pressure from her conservative Jewish parents to settle down and start a family. To Each, Her Own packs a lot into its short 95 minute runtime. While the movie would unquestionably benefit from having more room to explore all of the ideas it introduces, it still has a few moments that work well.