Cam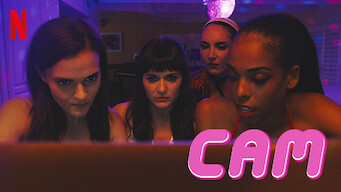 2018
15
95 min
After a look-alike takes over her account, a cam girl with a growing fan base sets out to identify the mysterious culprit and reclaim her own identity.
Genres:Horror Movies, Independent Movies, Thrillers
Director:Daniel Goldhaber
Cast:Madeline Brewer, Patch Darragh, Melora Walters, Devin Druid, Imani Hakim, Michael Dempsey, Flora Diaz, Samantha Robinson, Jessica Parker Kennedy, Quei Tann
Production Country:United States
Click to Rate:
Added to Netflix:November 16, 2018
From the Daily Dot

That cold panic you feel when your password doesn't work? Cam takes that feeling and stretches it into a smart thriller about online identity and sex work. Written by Isa Mazzei, a former cam girl, Cam stars Madeline Brewer as Alice, a woman who performs as alter ego Lola and is trying to build a following like any modern content creator. Things take a turn when she's locked out of her account and her doppelganger starts putting on a show, and Cam drills down into the fractured identities we (sometimes inadvertently) create online.