Todd Glass: Act Happy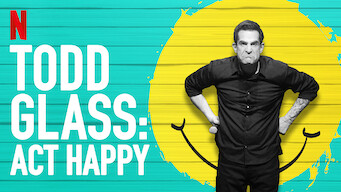 2018
15
63 min
Try to keep up as comedian Todd Glass delivers rapid-fire stand-up that bounces from his heart attack to his coming out to how to eat a Kit Kat.
Genres:Stand-Up Comedy
Director:Scott Moran
Cast:Todd Glass
Production Country:United States
Click to Rate:
Added to Netflix:January 23, 2018
From the Daily Dot

Todd Glass keeps his energy up, jumping from topic to topic, often starting a joke and abandoning the punchline in favor of a new one on Act Happy. He covers house-flipping shows, flossing, pigeons, and admits he has a song prepared in case he doesn't have enough material. It appears he does have enough material, but sometimes a lack of focus hinders the delivery. Two highlights: He does a spot-on Brian Regan impression in a bit about man caves and channels Rodney Dangerfield doing Mitch Hedberg jokes, which I could have watched for another 15 minutes.