Bright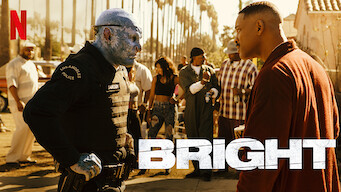 2017
15
118 min
In an LA rife with interspecies tensions, a human cop and his orc partner stumble on a powerful object and become embroiled in a prophesied turf war.
Genres:Action & Adventure, Crime Movies, Sci-Fi & Fantasy
Director:David Ayer
Cast:Will Smith, Joel Edgerton, Noomi Rapace, Lucy Fry, Edgar Ramírez, Ike Barinholtz, Brad William Henke, Enrique Murciano, Happy Anderson, Kenneth Choi, Andrea Navedo, Dawn Olivieri
Production Country:United States
Click to Rate:
Added to Netflix:December 22, 2017
From the Daily Dot

Bright is an utterly silly, completely ridiculous movie, seemingly born out of algorithm-generated, genre-hybrid logic. One can almost hear Netflix executives reading back the data analytics: "People like fantasy, and cop movies, and Will Smith. If we put them in a movie together we can't lose!" Unfortunately, this type of thinking is also why Bright ends up a messy mix of conflicting ingredients.