#realityhigh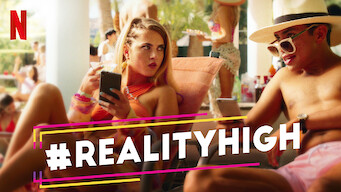 2017
15
99 min
When nerdy high schooler Dani finally attracts the interest of her longtime crush, she lands in the cross hairs of his ex, a social media celebrity.
Genres:Comedies
Director:Fernando Lebrija
Cast:Nesta Cooper, Kate Walsh, John Michael Higgins, Keith Powers, Alicia Sanz, Jake Borelli, Kid Ink, Yousef Erakat, Rebekah Graf, Anne Winters, Peter Gilroy, Patrick Davis
Production Country:United States
Click to Rate:
Added to Netflix:September 8, 2017
From the Daily Dot

Digital-age Netflix comedy #realityhigh is #notgood. Use any Instagram filter you like, the story's the same ol' setup. Teen movies can be transcendent and terrific. But in the era of self-involved YouTube stars, this one designed for one specific age demographic. My dislike for the movie is almost as predictable as this rote story about a girl who goes from nerd to popular, to not popular, to eventually being popular for being her nerdy self. It's shot to look like a music video, with pretty faces, bright colors, and flashy camera moves in abundance. But it's as boring as Saturday school and as mind-numbing as a standardized test.