Ali Wong: Hard Knock Wife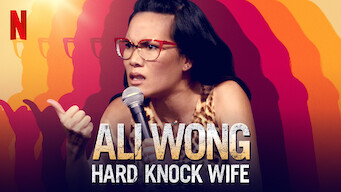 2018
15
64 min
Two years after the hit "Baby Cobra," Ali Wong is back with another baby bump – and a torrent of hilarious truths about marriage and motherhood.
Genres:Stand-Up Comedy
Director:Jay Karas
Cast:Ali Wong
Production Country:United States
Click to Rate:
Added to Netflix:May 13, 2018
From the Daily Dot

Hard Knock Wife is a lot of things: an exploration of fame; an indictment of American healthcare and its lack of maternity leave; an illustration of the body horror of motherhood. But this is Ali Wong's take, so she'll tell you up front that sometimes, when you're breastfeeding, a duct will become clogged, resulting in "a kidney stone in your titty." It's a line that might make you involuntarily grab your own, and a good portion of Hard Knock Wife explores the intricacies and indignities of motherhood. She unravels the fantasy versus the reality; being a stay-at-home mom is not ideal when you're in "solitary confinement" with a "human Tamagotchi." She likens joining a new moms' group to linking up for survival in The Walking Dead. Breastfeeding is "chronic, physical torture," and her daughter is the bear in The Revenant. She deftly plays the two sides of being told she'll need diapers after giving birth – for herself. Wong isn't ragging on motherhood for laughs; these are things she and so many other women learned on their own, through trial and error, and Wong subtly plays up the loneliness, confusion, and despair of being a new mom.