W. Kamau Bell: Private School Negro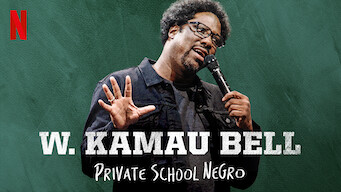 2018
15
66 min
Comedian W. Kamau Bell muses on parenting in the Trump era, "free speech" dustups, woke children's TV and his fear of going off the grid.
Genres:Stand-Up Comedy
Director:Shannon Hartman
Cast:W. Kamau Bell
Production Country:United States
Click to Rate:
Added to Netflix:June 26, 2018
From the Daily Dot

W. Kamau Bell wants you to know the president is certifiably racist in his new one-hour Netflix standup special, Private School Negro. The comedian Bell has no problem choosing his words, and it's refreshing to hear someone in the entertainment industry not dance around the themes being played out in the headlines daily. Bell uses that friction as a foundation to explore topics like Blackness, fatherhood, and what it's like to be expecting a third child in the current political climate. But then he fires up an impromptu singalong or chats with audience members. In the end, his inclusive set proves a welcome reminder that it doesn't take very much for us all to get on the same page.